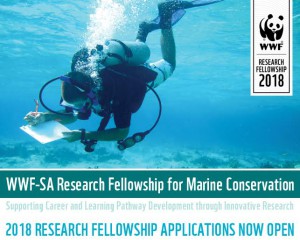 Graduates with an Honours degree in or related to marine conservation and science and a keen interest in pursuing Masters research that aligns to and contributes to WWF-SA's goals for marine conservation are invited to apply for the 2018 Research Fellowship in Marine Conservation.
The WWF-SA Research Fellowship Programme supports learning pathway and career development for improved environmental governance through a bursary award for post graduate studies and association and networking within key communities of practice.
The WWF-SA Research Fellowship Award includes:
A financial award of R200,000, for a maximum of 2 years for course fees, access to literature, computer hard- or software, fieldwork, conferences and workshops and related living expenses;
Networking within key communities of practice for marine science and conservation.
To apply, you must have:
completed an Honours degree in or related to marine science and/or conservation;
an expressed interest in contributing to the work of WWF-SA, its Marine Programme and its goals for conservation in the marine environment;
a clear motivation for how this research study might contribute to your career development and work for marine conservation in South Africa;
supervisory support and endorsement from the institution with which you will/are register(ed).
To apply for the WWF-SA Research Fellowship for Marine Conservation complete the application form and submit it, together with the required supporting documentation and endorsements, to WWF-SA by Friday, 16 February 2018.
Queries:  lbayat@wwf.org.za or call 021 657 6633
Successful candidates will be advised by Friday, 2 March 2016.